Brands
The Leaders of Design & Innovation
Meet the companies that we call partners. They form the foundation of our product specifications thanks in part to their best-in-class performance, breadth of product offering and ongoing technological innovation.
What started out as a response to a growing market trend, Access Networks evolved into the largest residential managed network service provider in America. After discovering that over-the-counter networking devices were no longer meeting the demands of the connected lifestyle, founder Hagai Feiner started Access Networks in 2003 to revolutionize connectivity in the home with intuitive enterprise-grade solutions. Today, Access Networks is the leading provider of advanced, enterprise-grade, plug-and-play networking solutions for the automated home. As the only residential network provider that uses true enterprise-grade networking equipment, Access Networks is dedicated to designing, deploying and maintaining a sophisticated and custom-tailored network that stays invisible while ensuring premium performance, reliability and unwavering security around the clock.
Networks have more stringent performance and bandwidth requirements than ever before, and Araknis is the go-to solution for IT experts in both residential and commercial environments. For best-in-class functionality and support, Araknis offers the ultimate dependability through their wide range of networking products. Operate the network seamlessly when you want to find new features, set new security access levels or expand the system. Routers, access points and switches undergo thorough testing in a variety of environments. Diagnose and resolve problems before they become an issue through the company's trademark OvrC software. Using this cloud management platform, we remotely monitor all your network-enabled devices. We'll troubleshoot issues and reboot devices to help you avoid on-site service calls and extensive downtime.
Founded in 2004, California-based Ruckus offers a complete line of high-performance network infrastructure, including wi-fi controllers, indoor and outdoor access points, wired Ethernet switches and more, for enterprise environments and service providers. Ruckus' deep history of and continued commitment to technical innovation ensures superior and ubiquitous connectivity for its customers. No matter the size of the project, Ruckus promises products that are readily available, flexible, and easy to use for unwavering connectivity in the most demanding environments. In addition to their world-leading network access infrastructure, Ruckus offers network security, detailed analytics, management software and award-winning customer support. When connectivity matters most, turn to Ruckus.
Backed by over two decades of in-house, hands-on design and audio engineering, Anthem is the brand of choice for knowledgeable audiophiles, professional musicians and casual listeners alike. Anthem's award-winning preamplifiers, amplifiers and AV receivers deliver an unprecedented level of reliability and functionality for world-class home theaters, dedicated listening rooms and more. Revel in perfectly optimized audio performance with Anthem's proprietary room correction technology that sonically ensures top-quality sound throughout any space in your home. Promising pure audio with no trace of coloration or risk of distortion, Anthem always puts you front and center with your favorite entertainment.
Enhance your home audio-video quality with AudioQuest's line of speaker and HDMI cables. Drawing on decades of experience, AudioQuest cables deliver unprecedented value and performance for all applications. Audiophiles often like to gauge quality based on ear tests, but at AudioQuest, all cables are developed and judged using a scientific process. Every piece of your home entertainment system matters, but cables often get left out of the equation. Opting for low-end cables will result in damage to your components and dull or irritating sound. AudioQuest is dedicated to bridging the space between your sources and speakers with little to no effect on the signal. AudioQuest cables reduce signal deterioration and coloration for a result true to the original without losing any important details along the way.
Universally loved by audiophiles and recording professionals, Bowers & Wilkins is believed by many to offer the best loudspeakers in the world. They are so synonymous with luxury sound that they're the official audio solution for all Jaguar car models. For more than 50 years, they have been the standard bearers in the hi-fi world through handcrafted speakers, superior grade materials and industry-leading audio engineering. They introduced the use of Kevlar and Diamond for the ultimate in pure, striking sound reproduction, and their audio engineering delivers expansive depth and clarity. Despite being best known for their flagship loudspeakers, B&W now offers the same exacting audio standard to their line of headphones, subwoofers, architectural speakers and even their stylish wireless speakers.
Luxury in-home golf simulators from Golfzon let you embrace the game like never before. Finding the time to hit the links for hours can be difficult. The Golfzon simulators recreate the game in the comfort of your home so you can get in a few practice swings, try out a few holes or play a whole round. Optimize your swing with multiple multi-surface hitting mats that recreate fairways, bunkers and roughs. Immerse yourself in famous golf courses through an ultra-bright projector and high-end wall-length screen. With over 250 patents and half of its staff devoted to research and development, Golfzon is always improving its software to deliver the most precise simulated golf experience. While other companies offer golf simulators, Golfzon is the only one that will become a golfer's lifetime partner.
A global leader in the design and manufacture of advanced visual surveillance solutions, IC Realtime innovates and delivers expansive video technology for the residential, commercial, military and governmental markets. IC Realtime's line of surveillance solutions seamlessly integrates with the latest smart devices and control systems in your home or business so you can easily monitor activities in real time whether you're present or away. Taking yet another step beyond their competitors, IC Realtime also offers the first-ever intelligent video surveillance search engine powered by AI, which uses deep learning technology to help you find exactly what you need from your video footage in seconds. When you choose IC Realtime, you choose the best in integrated security solutions.
JL Audio is a consumer and professional audio manufacturer focused on delivering unique engineering, superior quality and high-performance audio to sound enthusiasts around the world. JL Audio was founded in 1975 on the belief that great audio has real value and that their discerning customers can "tell the difference." The Florida-based company is known as one of the pioneers of the car audio industry and is also active in the marine, home, mobile and powersports markets. JL Audio is particularly famous for their subwoofers, which have received the highest accolades from audio reviewers and demanding audiophiles around the world and feature proprietary, patented technologies that require unique assembly techniques. Nearly all JL Audio speaker systems are built in the United States and overseen by production and logistics professionals who make sure every product maintains the company's high-quality standards.
Find the optimal high-performance audio solution for home theater systems, outdoor sound and 2-channel audio through a wide range of Paradigm loudspeakers. Since 1982, the Toronto-based company has perfected the balance of construction, design and engineering for the ultimate value in high-end sound. Relying on in-house audio research, Paradigm constantly re-tests, re-measures and re-designs their speakers for superior sound quality every time. Even the most critical listeners will be amazed by the clarity and power of sound emanating from their loudspeakers while listening to music or movie soundtracks. Variables within the room can easily affect sound quality which is why all speakers include Anthem Room Correction (ARC) technology. ARC eliminates these variables by comparing room acoustics to the company's lab standards to get rid of adverse results through custom calibration.
McIntosh has been shaping music since 1949 with its distinguished offerings of luxury audio systems. From two-channel stereo sound systems to multi-channel home theater surround sound systems, the New York-based manufacturer offers a large scale of handcrafted audio products that enable music and film enthusiasts to truly live inside the most immersive soundscapes. Their iconic blue Watt output meter lives on every one of their amplifiers and receivers and is truly a global symbol of quality home audio. Go beyond the home theater and dedicated listening room with audio products like their signature turntables, CD players, speakers and headphones that bring exceptional sound to your everyday life. When you choose McIntosh, you choose the same experience, passion, and performance that has powered some of the most iconic musical moments in history.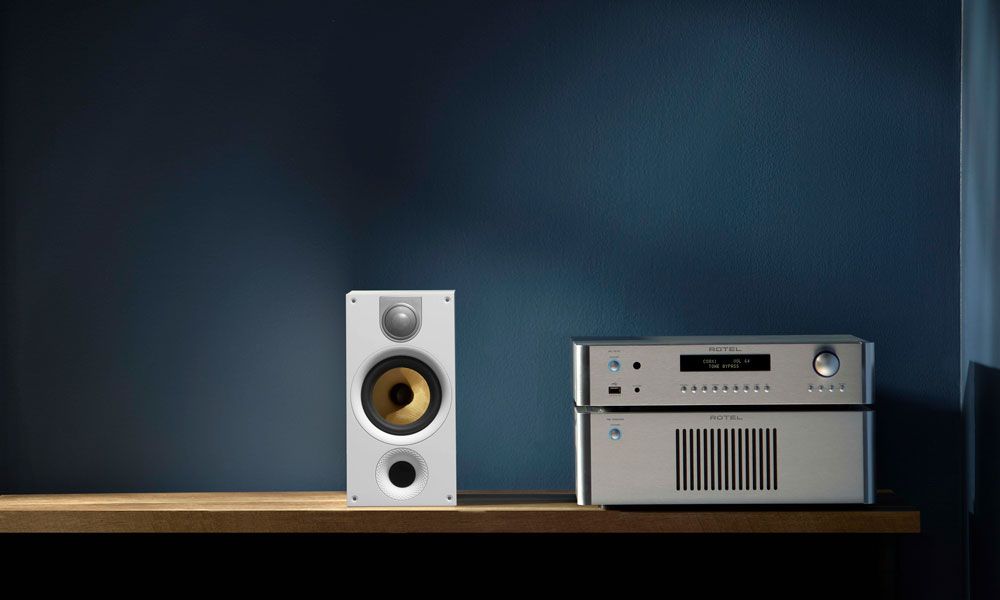 More than 50 years of experience in high-performance audio video solutions has made Rotel a premier brand in the industry. Rotel's dedication to designing, engineering and manufacturing cutting-edge AV products puts them above the rest, while the time they take to build, test and evaluate every model before production only adds to their trustworthy reputation. Supreme sound quality comes from Rotel's Balanced Design concept which combines component selection, circuit topology and evaluation when building each of their high-end components including amplifiers, DACS, CD players, surround processors, distribution amplifiers and more. Originally started in Japan by Tomoki Tachikawa in 1961, Rotel moved its headquarters to Zhuhai China in 2005.
Established in the early 1980's, Southern California-based Dana Innovations is the parent company of Sonance, iPort and TRUFIG. Sonance specializes in designing high-quality audio systems for luxury homes and businesses that work in virtually any environment, from in-wall and in-ceiling to expansive outdoor landscapes and more. Enjoy sightless surround sound that immerses you into your favorite blockbuster film or musical soundtrack with discreet speaker solutions that complement any indoor décor or hide evenly throughout your gardens and foliage. With Sonance, delight in immaculate sound with minimal visual impact thanks to the beautiful blending of technology and aesthetics. Further expanding on its commitment to luxury sound, Sonance acquired James Loudspeaker in 2019. The acquisition allows Sonance to leverage James Loudspeaker's innovations in the areas of custom and architectural audio to create high-performance, bespoke solutions for its clients.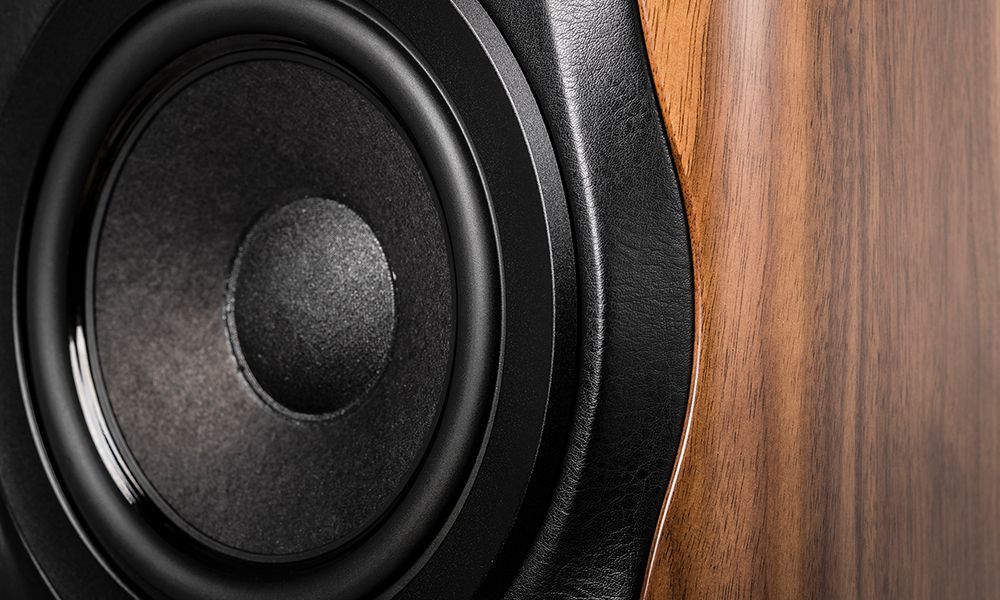 Each Sonus Faber speaker is not only a handmade musical instrument but an exceptional work of art. Producing the purest sound through natural materials and individualized tuning by ear, each model has delivered "the Voice of Sonus Faber" since the company was founded in 1983. Their speakers showcase the traditional craftsmanship of Italian artisans offering the same precision used when building the world's most famous musical violins. The "Made in Italy" expectation is there as well in the elegant aesthetics that make Sonus Faber a focal point of your home décor. Speakers come in various polished finishes, including wood, metal gray, white and black. Their wide range of reference loudspeakers, bookshelf speakers and wireless speakers exemplify the pinnacle of hi-fi sound for a wide range of applications.
Since 2005, Steinway Lyngdorf has been driven by an all-consuming passion to create the finest products in the audio industry. These speakers and amplifiers are the only products that are qualified to be manufactured in partnership with American piano company Steinway & Sons. Steinway Lyngdorf is a visionary collaboration that marries Steinway & Sons' heritage and design with Steinway Lyngdorf's groundbreaking technologies and engineering to deliver high-performance digital audio systems for both music and movie connoisseurs. Headquartered in Denmark, Steinway Lyngdorf promises an extraordinary audio experience for even the most discerning audiophiles and musicians. Choose from elegantly designed free-standing speakers, surface-mount speakers and in-surface speakers that perfectly adapt to your environments for pure, uncompromised audio.
With over ten thousand independent and major studio motion picture films, TV series, concerts and documentaries available, Kaleidescape serves homeowners the most pristine menu of 4K Ultra HD entertainment to be enjoyed from the comfort of their couches. Kaleidescape combines movie players and servers with online selection and delivery of the highest quality media, taking the top spot for must-have content sources that power your home theater or media room. Browse, select and purchase any content you desire, and upload your physical media to be stored digitally with the rest of your entertainment. The intuitive interface is designed for graceful navigation of your selections and settings so you never have to take your eyes off the screen.
Delight your senses with professional-grade home entertainment solutions designed to harmonize both picture and sound for a breathtaking, true-to-life experience. Unprecedented contrast, color and realism are made possible with Sony's proprietary technologies that also lead in pixel-by-pixel detail for texture you can practically feel. Whether you're outfitting a multi-purpose media room or a dedicated private cinema, Sony's line of premium 4K HDR projectors and TV displays, AV receivers and high-resolution speakers work in tandem to craft the immersive experience intended by film and video game creators.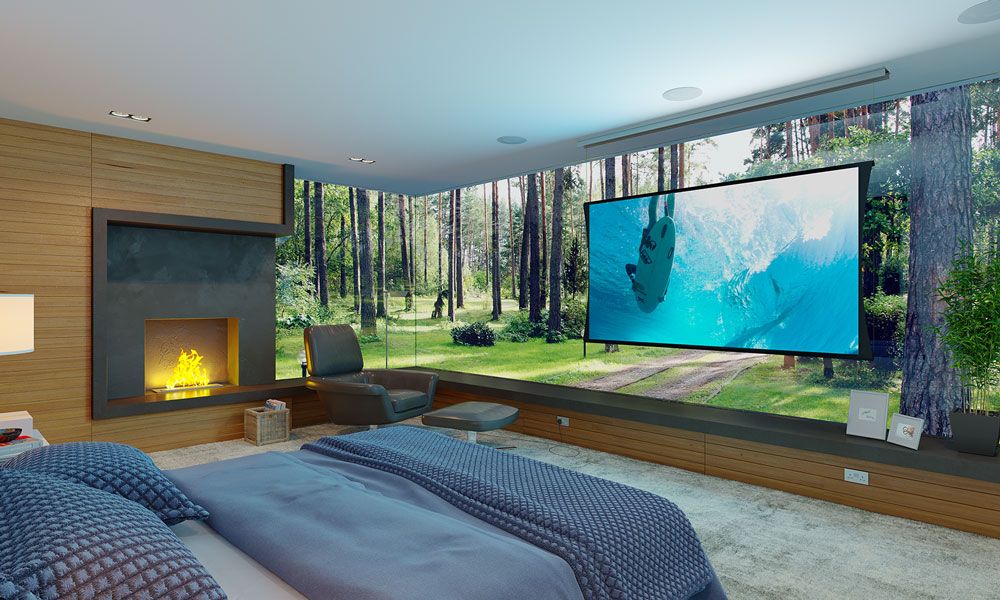 Unleash the full potential of your home theater with Screen Innovation's masterful indoor and outdoor screen models. Revolutionize your viewing experience with ambient light rejecting screens so you can enjoy your favorite films even during the day. Embrace the big screen experience in a stylish environment with their sleek, zero edge models that fit seamlessly in any space. Now you can even take your screen on the go with the Solo line model featuring a portable cassette and a two-year battery life. Tiles and rear projection screens, meanwhile, allow unique and engaging digital signage solutions for businesses. Recently, Screen Innovations has also released motorized shades for indoor and outdoor use in a wide range of models and colors.
Inventors of the solid-state dimmer in 1959 and now holders of 2,700 worldwide patents, Lutron has expanded their product offering to more than 15,000 products for smart home installations in Plymouth, MN and beyond. Lutron makes it possible to craft the perfect atmosphere at home or in the workplace to complement your day-to-night activities with personalized lighting and shading control paired with smart home automation for enhanced comfort and productivity. Recall your favorite settings from a master keypad or remote to easily transform your environment with just a tap or set your lights and shades to adjust on their own so you can focus on the activity at hand. From the workplace to the home, Lutron provides sophisticated solutions for custom lighting and shading that operate seamlessly at your command.
Legrand's primary mission is to enhance our living and working spaces through innovative, connected and energy-efficient solutions. With origins dating back to the 1860s, Legrand was officially founded in 1904 and now has a global presence with headquarters in close to 90 countries. You only have to look through Legrand's expansive portfolio spanning over 300,000 products to understand why they are global industry leaders in energy infrastructure and distribution, digital infrastructure and distribution, cable management, installation components, lighting control, user interfaces and smart home automation. Expansive control and command solutions for lighting, shading, AV and more provide seamless experiences for homeowners, employees and managers. Renowned Legrand brands include Da-Lite, HDL, Middle Atlantic and Vantage.
Enjoy a more comfortable environment while reducing your energy consumption with QMotion's advanced shading systems. Using a mobile app, voice commands or elegant keypads, open and close shades throughout your space for the ultimate comfort and efficiency. One of the industry leaders in motorized shades, QMotion helps residential and commercial spaces optimize their use of natural light. Electric shades open and close in unison with silent motors that won't interrupt your daily activities. Founder Willis Mullet instilled an expectation of uncompromising quality found in all of QMotion's products. Aesthetics never come second to Qmotion with slim brackets, decorative mounting options, and a wide range of fabric styles and colors. Transform your décor and lifestyle by integrating their cutting-edge automated shades.
Specializing in smart home automation for luxury spaces, Vantage offers stunning one-touch interfaces available via dedicated touchpads or mobile apps. Through white-glove customer service and cutting-edge products, Vantage delivers a smart home experience tailored to high-end clients. Having over 30 years of experience in the luxury lighting and automation industries, their wide range of hardware and software strikes a balance between functionality and sophistication. Use their sleek Equinox widgets that offer easy access to shades, lighting, climate and personalized scenes. Add their elegant line of keypads with custom trips and finishes that blend in perfectly with your décor. Retain your favorite brands while upgrading your user experience through Vantage's partnership with companies like Sony, Honeywell and Philips Hue.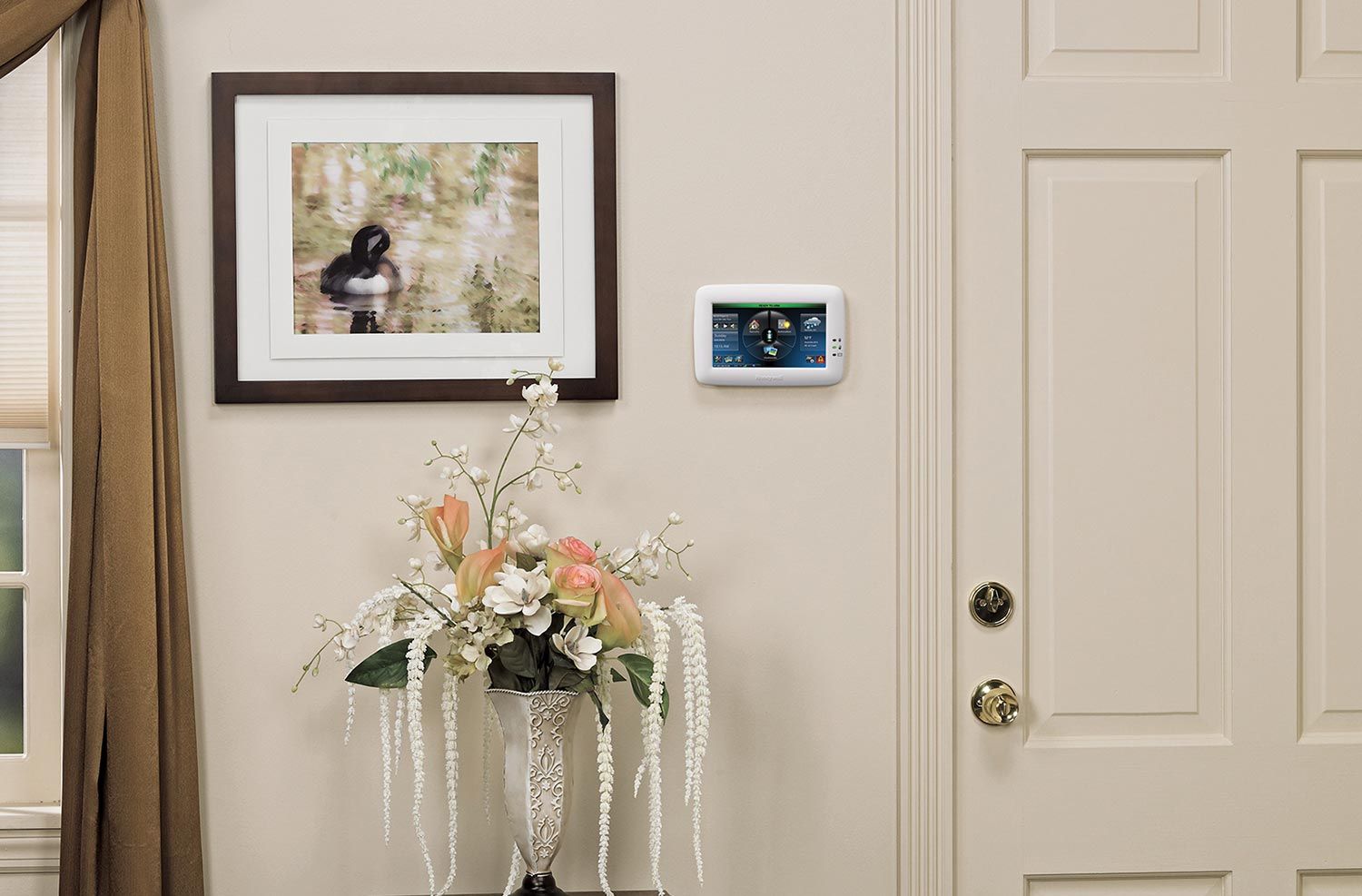 Honeywell Security is a global provider of comprehensive home security and surveillance solutions for both residential and commercial markets, including hospitality, healthcare, education and retail. A branch of the multinational corporation Honeywell, which was founded in 1906, Honeywell Security began its journey to becoming an industry leader in 1969. Honeywell Security offers robust solutions in access control, intrusion detection, life safety, video systems, security management systems and more. Their advancements in the industry have helped shape today's security systems, with analytics that pave the way for proactive and even predictive home security in Plymouth, MN and beyond. Headquartered in Huntington, NY, Honeywell Security continues to invest in their commitment to delivering world class service, support, quality and innovation.
As the first home automation company to embrace mobile technology for control inside and outside the home, Savant is a leader in innovation. The brand helps to cultivate the ultimate luxury lifestyle with personalized control of your entire home, business or yacht from an intuitive mobile app, high-resolution touchscreen, elegant remote or by voice activation. Savant offers any user the unparalleled convenience of controlling your lighting, climate, entertainment, pool and spa, security and more from a single platform no matter where you are. Set distinctive scenes that mold to your every mood and transform your home into a coveted entertainment hotspot at the touch of a button. Whatever you imagine, Savant can help make it a reality.
Elevate your expectations of home entertainment with Samsung's most innovative and advanced range of televisions that offer an impeccable visual and auditory experience for film and gaming enthusiasts alike. Samsung's proprietary Quantum Processor is the mastermind behind their unrivaled QLED 4K and 8K TVs that display a depth of detail, contrast and realism never seen before. Even when not in use, Samsung displays add beauty to your home by transforming into framed artwork or blending into the decorative pattern on your wall, elevating your space while turned on and off.
Creating a healthy home environment for your family is important. VACUFLO Central Vacuums clean in ways other vacuums can't and have up to five times the power of most portable vacuums. Also, VACUFLO Central Vacs actually improve indoor air quality by capturing all of the vacuumed dirt, dust, and allergens, with absolutely no "vacuum odors" and no recirculation of particles back into the living area. VACUFLO provides relief for allergy and asthma suffers and helps create a safe haven for your entire family.
Start Your Journey to Smarter Living
Connect with us to learn more about how these industry-leading brands work together to create your dream smart home or business.